While you may be used to the hard Gorilla Glass that comes on most smartphones and tablets these days, it's important to remember that the Switch screen is made from a soft plastic. Nintendo opted for this instead of Gorilla Glass to keep the screen on the Switch from shattering if it is dropped and hits a hard surface. That's great for the butter fingers among us, but the plastic of the screen is easily scratched by the Switch dock itself.
Check out the scratches on the Switch below. Looks like someone keyed it, right? That's normal wear and tear on a Switch without a screen protector and it's perfect evidence of why you need a screen protector for your Nintendo Switch.
---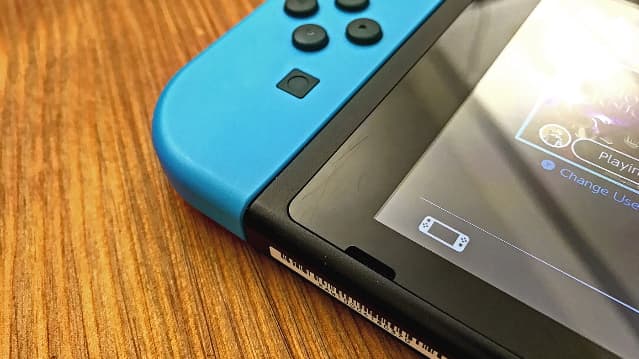 ---
Screen protectors usually come in two varieties. There are thin plastic screen protectors that can give your screen a matte finish to reduce reflections and there are tempered glass screen protectors designed to give you better scratch protection. Ninty Today recommends a tempered glass screen protector since these are more durable than the thin plastic film screen protectors. Tempered glass is scratch resistant, but not all screen protectors are made the same.
Some reddit users report ordering a tempered glass screen protector for their Switch, only to have it melt onto the console during docked play. That's obviously not a desirable trait, so you should stick to trusted screen protectors that don't have this problem.
amFilm has been producing tempered glass screen protectors for popular smartphones for years now, so we recommend you buy your Nintendo Switch screen protector from them. You'll get two in a package and the application instructions are very easy.
Tips For Applying Screen Protectors
If you have just purchased a Nintendo Switch screen protector and you want to know the best way to get it applied to your system without bubbles and dust collecting under it, follow these quick tips.
Apply your screen protector in a steamy bathroom such as after a long shower. It may sound weird, but the damp atmosphere will keep dust out of the air and help you get a perfect seal on your screen protector.
Lightly clean the screen with rubbing alcohol and a non-linty paper towel or a piece of newspaper. This will remove any debris.
Use the included stickers in the screen protector package to remove any excess lint that you can see. Dab it all over the screen as it will pick up tiny particles you may not see with your eye.
Align the screen protector starting at the bottom, where the Switch sensor is located. Line it up perfectly with the notches and then slowly lower it into place.
Use the included hard plastic card to press out any bubbles you notice, starting at the center of the screen and working outward.
---
amFilm Tempered Glass Screen Protector for Nintendo Switch (2-Pack) - $7.99
Consider supporting Ninty Today by using our Amazon link to buy your screen protector. We'll get a small cut of the sale that goes toward keeping you informed about the hottest Nintendo news and it helps keep the site ad-free.