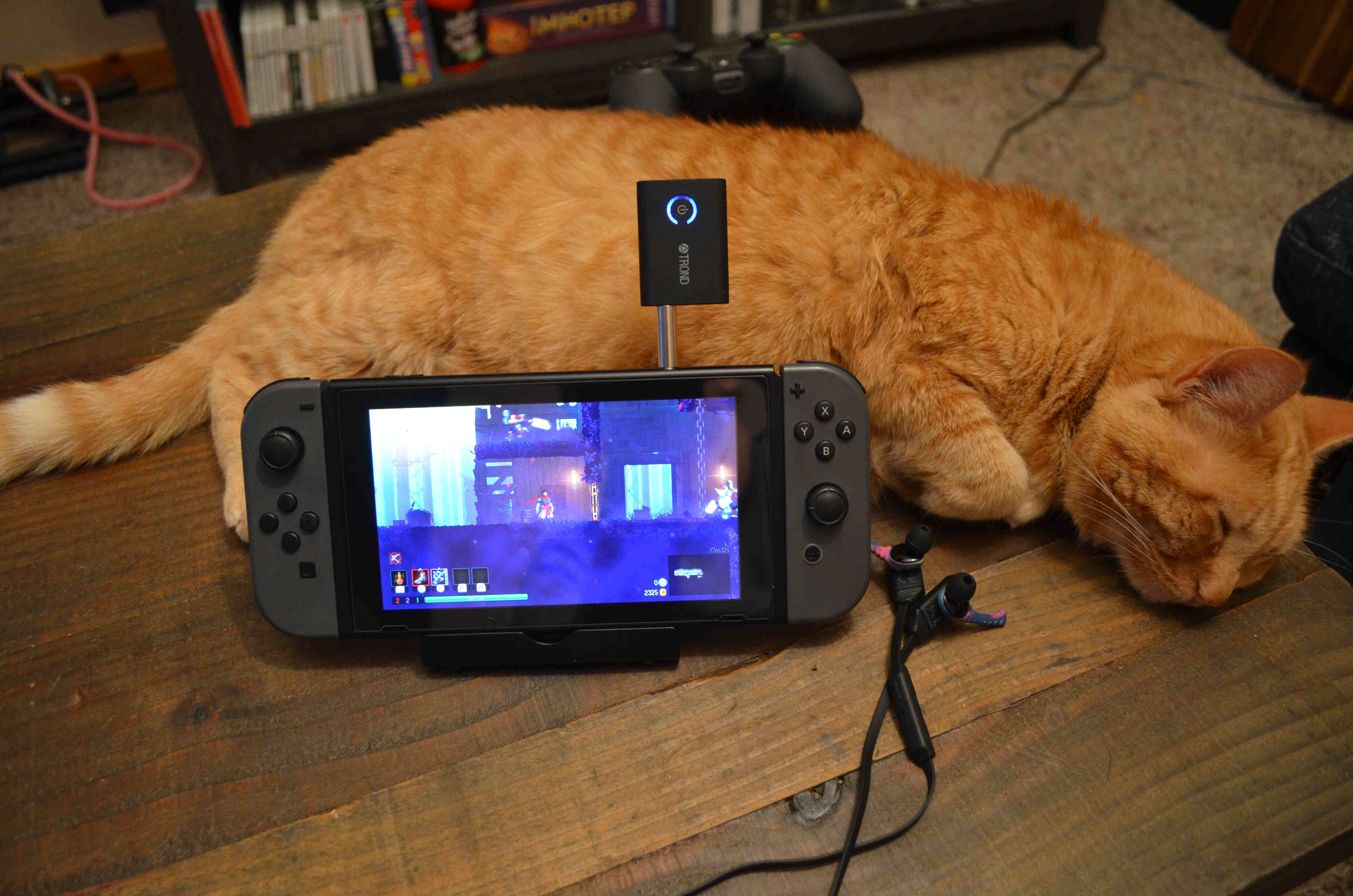 One of the most annoying things about the Nintendo Switch is that it does not support Bluetooth headphones out of the box. You can buy a USB adapter and plug it into the dock to use a pair of Bluetooth earbuds when you're enjoying a game on the TV, but what about when you want to enjoy wireless audio while playing handheld? Thankfully, you just need a Bluetooth transmitter.
We reached out to TROND to ask if they would supply a sample of their TROND Bluetooth transmitter and receiver to test how well the product works with the Nintendo Switch. The transmitter is available for around $30 and comes with everything you need to get started as long as you already own a pair of Bluetooth earbuds. Check out our pictures below.
The dongle itself is relatively light and the metal connector is sturdy and strong, so I don't really have any concerns about the unit sticking up so far. It is a much better solution than applying velcro to the back of your console to hold a larger unit in place.
What You'll Need
---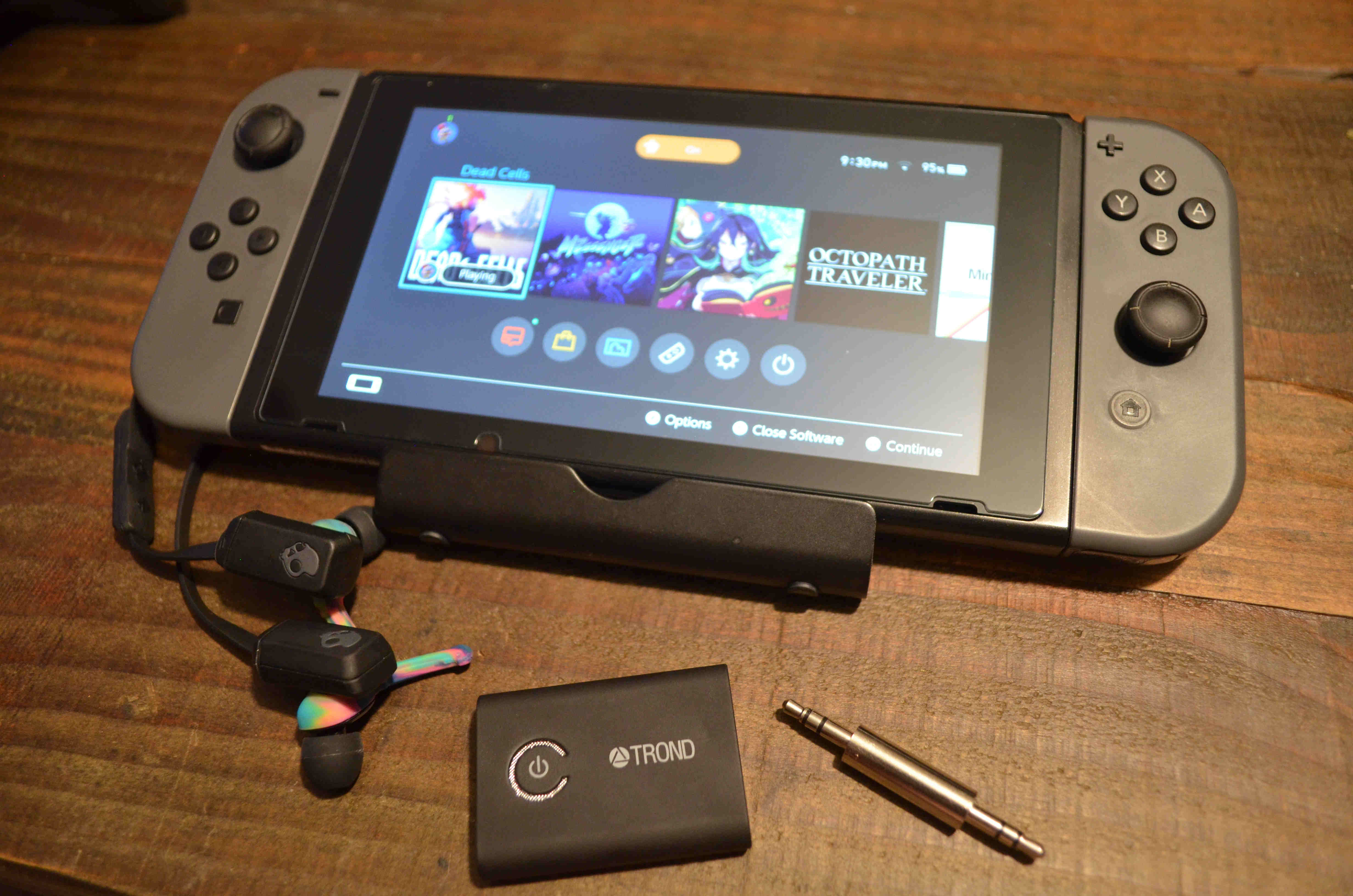 Here's a peek at everything you'll need to get started. If you already have a Bluetooth headset, read the note below about aptX and audio latency.
The Bluetooth transmitter is a small, square box that connects to the 3.5mm headphone jack at the top of the Switch. The company includes a small male-to-male 3.5mm adapter to make this process easier. The benefit of this dongle is that it's not floppy, but instead sticks straight up on the top of your Switch.
Is there any audio delay?
One of the negative side-effects of unsupported Bluetooth audio is noticeable audio lag when using a dongle. TROND's Transmitter supports Bluetooth 4.1 and aptX Low Latency, so there's very little lag here. I tested it by playing The End Is Nigh, which is a precise platformer that requires a no-lag audio experience. I was able to complete levels just as well as I could without the transmitter connected, so it's safe to say that their no-lag audio claims are true.
Note
TROND says the pair of Bluetooth headphones or earbuds you have must support aptX or you may experience audio latency. The two Bluetooth options above both support aptX if you're unsure if your current device is compatible.
Charging & Play Time
---
TROND recommends charging the device after you receive it. It took about an hour and a half to get the device to full charge and from there I could reliably go a whole day or two before needing to recharge it again. I didn't time my play sessions, but I managed to spend about 8 hours yesterday playing Battle Chef Brigade with my Bluetooth headphones attached and they needed to be charged before the transmitter itself did.
Yes it's an another thing that you'll need to keep track of staying charged and it charges through a microUSB connection instead of USB-C like the Switch, but it's small enough that it can fit inside most earbud cases and is a trivial addition to your every day carry if you prefer Bluetooth audio devices.
The Bluetooth transmitter also supports streaming to two pairs of headphones, so you can share your audio with a friend if you're playing a local co-op game in a public place. I had success with this when pairing both a Bluetooth heaset and a pair of Bluetooth earbuds, so this is definitely a great option for long car trips or commutes.
Exclusive Discount
TROND has provided us with the code JNSUOM64 to share with our readers, giving them 10% off of this device until September 30, 2018. Use this coupon at checkout to help support Ninty Today. Only one coupon code per customer.
Disclaimer: TROND provided this Bluetooth transmitter as a review sample for us to share our opinion with you. This has not influenced our opinion of this accessory in the slightest.
---
TROND Bluetooth Transmitter - $29.95
Consider supporting Ninty Today by using our Amazon link to buy anything you need. We'll get a small cut of the sale that goes toward keeping you informed about the hottest Nintendo news and it helps keep the site ad-free.
---