Tired of paying full price for Nintendo eShop gift cards? Here's a nifty trick that will give you $5 upfront and up to 10% off of your future purchases.
How to get eShop Gift Cards Cheap
---
First you'll need to sign-up for the gift card reselling website, Raise.com. The website regularly offers Nintendo eShop gift cards in varying denominations for up to 10% off, especially after PayPal has one of their 15% off deals. People buy these gift cards when they're on mega sale and then offer them for sale on Raise.com, so you can get a good deal no matter when.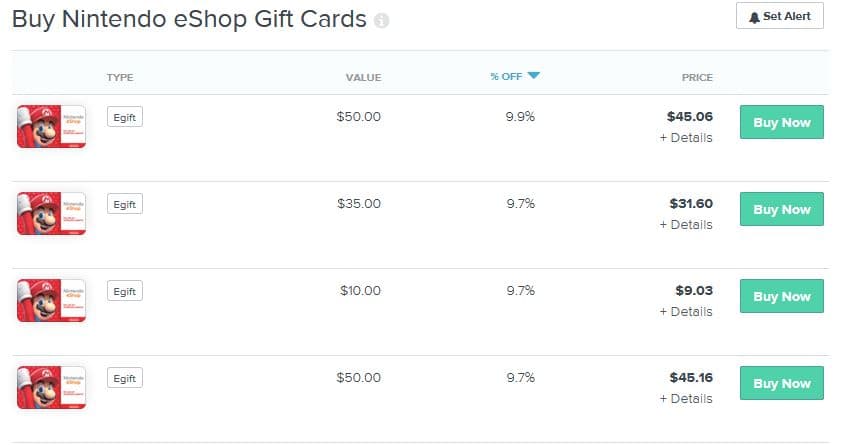 Raise.com also has an affiliate program that pays out $5 to the person signing up and $5 to the person who referred, so it's a win-win situation for us both. You'll earn $5 towards your first purchase and I'll get $5 to continue covering quality Nintendo games for the site.
Sign up for Raise.com using this link to save $5 on your first purchase.
Raise.com will ask for some verification information to make sure you're not a scammer and you actually own the debit or credit card you intend to use, but after that you can make multiple purchases. They often run deals for an extra percentage off certain categories or site-wide. Currently, there is a deal offering 4% off everything with the promo code SPECIAL, which is good until August 19, 2018.
That means you could save $5 plus 14% off your first gift card purchase. I've started using this method to buy all of my eShop credit and I have not yet had a problem with a code not working. The site has a one year money back guarantee on all of their cards, so in the event that you do get a dud, you're covered by their site policy.
Here's a pic from my account of the $35 card I bought yesterday to take advantage of some of the deals available this week. A cursory scroll through my Raise.com account shows I've bought 12 Nintendo eShop giftcards since December 2017 in varying monetary amounts and they've all been perfect, so try this if you're looking to save a little bit extra when eShop deals come around.
Sign up for Raise.com using this link to save $5 on your first purchase.
---
Nintendo eShop Credit - $20
Consider supporting Ninty Today by using our Amazon link to buy anything you need. We'll get a small cut of the sale that goes toward keeping you informed about the hottest Nintendo news and it helps keep the site ad-free.